When you think of Mexico you probably think of Cancun, Rocky Point, Cabo San Lucas, Puerto Vallarta, or Tijanua. Most people have not even heard of the city of Guanajuato, but in celebration of Cinco de Mayo we wanted to share with you our love for this fascinating little city in central Mexico. The culture, the food, the colorful buildings, and the history behind this city are all bursting with flavor and fun!
Our hotel was just on the outskirts of town so each day we took a cab in for just under $3, super cheap. We went through these tunnels that run under the city and while today they are used to help divert traffic from the city roads, in the past they were used to help prevent flooding. The city is fairly small so we would suggest only spending a few days here soaking in some gorgeous views of charming multi-colored buildings.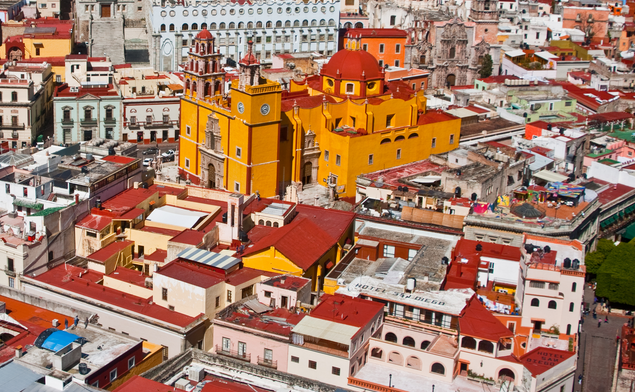 For the best views of the city, you can opt for a more active route by hiking up the many steps or you can pay approximately $2 roundtrip to take the FUNicular (cable car). The funicular offers gorgeous views if you want to relax and take it all in. Once you make it to the top you will see souvenir shops, food vendors, and the monument of Pipila. This massive statue is of a man nicknamed Pipila who was known to be the Hero of Guanajuato. Legend has it that this man stood alone to begin the fight for freedom of this town during the beginning of the Mexican War of Independence.  The statue can be found at the top but the views from this landmark are what made the trek up so rewarding.
We also suggest taking time to chat with some of the locals and ask them to give you a little history and background on the city. They take great pride in telling you about this unique place, and have great stories to share but be sure to tip them as they do expect it. A few other recommendations that you should definitely check out are as listed: The Mummy museum, yes there are real bodies in there that have been mummified! There are different mining tours you can do.
The tour we took was a little difficult for us to understand because the guide spoke very little English so you might want to confirm beforehand if you speak little to no Spanish. The tour explained the history of mining of silver and how the miners would go about their business in the pitch black, with no electricity, using only a flashlight. If their flashlight stopped working they would be stuck in the caves for days until someone found them and many would unfortunately die while trying to find their way out.
If you are into Romeo and Juliet you should look into going to a spot called the Alley of the Kiss (Callejon del Beso), ask the locals where it is and they can help point you in the right direction. Its free and you can go on the balcony and give your loved one a smooch. If you are over in that area then head on down to the only big market in town. There are also plenty of food vendors and souvenir shops nearby. We were big fans of the enchiladas so you might want to get one or two or eat them until you burst! We found them on the side of the market where there were probably 30 locals screaming at us from a balcony telling us to come eat at their place. It is pretty amusing and might seem a little overwhelming but once you pick your place and go inside you get to prepare for an amazing meal. The food is so delicious and authentic… oh and did we mention it was cheap! Best combo ever!Another popular place to feed your appetite is in a cute little court called- Plaza San Francisco. There were plenty of options and everywhere we went within this plaza was good. If you're looking for a good time and great martinis head to the top of the plaza and stop by La Clave Azul.  
While exploring all these places you are going to work up an appetite so don't hesitate to try some of the food vendors on the side of the street such as the cream corn, gelato/ice cream, churros (note: do not buy them from the guys carrying them around in a basket, buy them from a cart and make sure to get carmel and chocolate inside…they are to die for!), and the tacos al pastor. Don't be surprised if you stumble upon some sort of festival or parade. Each time we have visited the city there was something fun going on! We like to describe this city as if it were Europe but Mexican style, you will totally get it once you are there! Have the best Cinco de Mayo, and be sure to put this on your list for a quick fun get away.